st. ailbe's NS
1st & 2nd Class
All children utilise the Classdojo app to engage in digital learning when necessary. Class Dojo ensures that teachers, children and parents are connected with communication sent regularly from the classroom.
All children use the school's 20 iPads to add to their online portfolios and engage in suitable apps chosen by their teacher.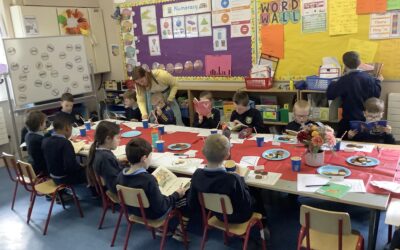 1st and 2nd class took part in a book tasting event. We set up the classroom like a restaurant and they booked in. They each had a book to read along with some juice and biscuits. They read their book for one minute and then gave it a score out of 10. They then passed...
1st and 2nd class did some beautiful Autumn themed writing this week! We brainstormed some important and useful words on the whiteboard, then we made sentences and paragraphs in our copies. Once we made sure they were our best efforts, we wrote them down on Autumn...
Gaeilge; Mé Féin First and Second class were zooming into their Gaeilge last week and writing all about themselves... Have a look at our Superhero display!
We have had a great first two weeks in First and Second class! First class have been getting used to their new classroom, with Second class showing them everything they need to know! Mrs. Hurley and Mrs. O'Brien have been in and out helping everyone to get those...